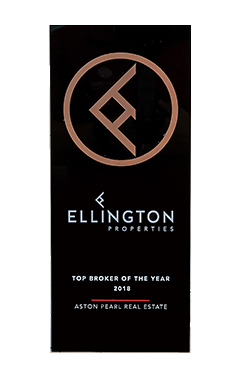 TOP BROKER OF THE YEAR - 2018
From: ELLINGTON
Dubai: 07/03/2019
Ellington is Dubai's renowned property developer and has successfully delivered many quality projects in various locations.
We received the award for the "Top Broker of the Year" for 2018 for an outstanding sales and number of transactions closed with the developer.
Ellington's current projects include high-rise luxury residences and multi-family communities in Dubai at prestigious locations.
TOP BROKER 1H-2018
From: ELLINGTON
Dubai: 11/07/2018
Awarded as the "TOP REAL ESTATE BROKERS" for the first half of 2018 by Ellington Properties, a promiment developer in Dubai with a reputation of delivering quality real estate projects in prime locations.
Ellington's current projects include high-rise luxury residences and multi-family communities in Dubai at prestigious locations.
BAYUT GOLDEN CIRCLE AWARD
From: BAYUT
Dubai: 22/05/2018
Bayut Golden Circle Award is a prestigious award instituted to recognise the Dubai real estate agencies who have been with Bayut for the past five years.

Bayut.com is a pioneering combination of unbeatable UAE real estate database and an extremely user friendly outlook.
SPECIAL APPRECIATION AWARD
From: DUBAI LAND DEPARTMENT
Dubai: 23/04/2018
A special award received from Dubai Land Department as an apperciation for our efforts and business tranparency.
Dubai Land Department (DLD) is the emirate's property legislator and receiving an award from them is an achievement we cherish and are looking ahead for more awards as we continue providing a high level of customer service.
TOP AGENCY - Q4 2017
From: DISTRICT ONE
Dubai: 4/3/2018
Awarded as the "Real Estate Agency of Q4 2017" for outstanding performace and the contribution in selling the project.
District One is one of Dubai's most promising new development and will be among the signature projects in Mohammad bin Rashid City.
SILVER PARTNER
From: SOBHA DEVELOPERS
Dubai: 7/2/2018
Award to be recognised as a "Silver Partner 2017" for exceeding customer's expectations and carrying forward the quality promise of the developer to the client.
Sobha Group is a multinational, multiproduct group with developments and investments in UAE, Oman, Qatar, Bahrain, Brunei and India. Sobha stands and strives for benchmark quality, customer centric approach, robust engineering and in-house research, and all these elements have contributed making it a brand trusted for excellence.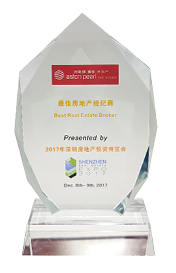 BEST REAL ESTATE BROKERS
From: SHENZHEN REAL ESTATE EXPO
Shenzhen: 9/12/2017
Awarded as the "Best Real Estate Brokers" for an outstanding performance and help international buyers acquiring their dream properties in Dubai.
Shenzhen Real Estate Expo is a two-day event for real estate developers, investors, agencies and brokers from both China and all around the world. With organizing experience of many years, SREX has created a trustworthy platform for real estate industry participants to expand the market and promote real estate projects and immigration services and to reach Chinese property investors & buyers. SREX attracts hundreds of projects from global real estate markets.
TECHNOLOGY LEADER AWARD
From: PROPSPACE
Dubai: 11/7/2017
Award received in recognition for being a real estate technology leader in the UAE. We at Aston Pearl believe that technology is the power behind any successful business and with the rapid changes in technology every business needs to have early adaptation for innovation.
PropSpace is the global leader in real estate software solutions and a trusted technology partner for thousands of estate agents and letting professionals worldwide.
AGENCY OF THE MONTH
From: BAYUT.COM
Dubai: 2/12/2016
Awarded as the agency of the month for an outstanding performance in providing best brokerage services to clients looking for proeprties in Dubai.
Bayut.com is a leading property portal in the UAE connecting users around the globe with quality real estate. We at Aston Pearl Real Estate are glad to have received the award and look forward to more nominations in the future.
HIGHEST ONLINE CONVERSIONS - DUBAI Q1 2016
From: PROPERTYFINDER.AE
Dubai: 2/5/2016
Awarded as the third place holder for the most number of online conversions in the first quarter of 2016. The propertyfinder.ae Highest Online Conversions Awards recognise real estate brokerages who have received the highest number of emails and phone call enquiries during the quarter on propertyfinder.ae.
Propertyfinder.ae is the UAE'S most visited property portal. Founded in 2007 propertyfinder has been providing the tools to help consumers find the properties that fit their needs.